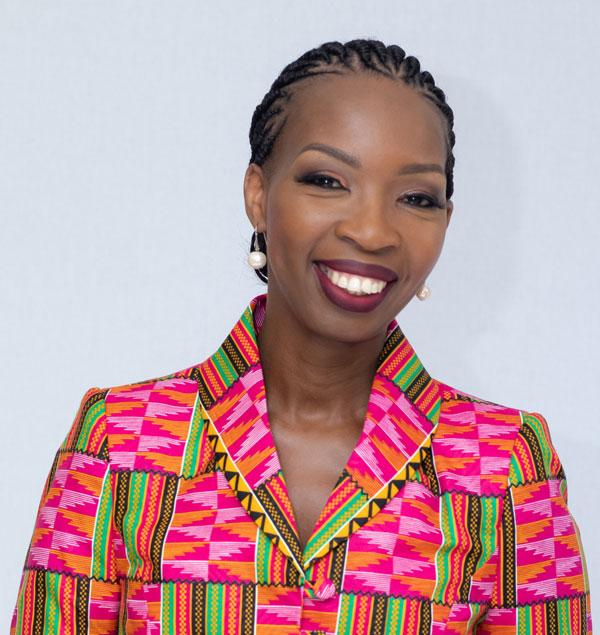 Women are paving a way in the energy space and taking leadership roles in this long male dominated space. Bertha Dlamini is one of those women who are creating a way for other women in the energy space by showing them that it's possible.


We had an opportunity to speak to Bertha recently to get to know her and the incredible work she is doing in the energy space.


Who are you and where do you come from?
I am an Advocate for accelerated participation of African Women and Youth in Africa's Power and Energy sector.
I am leveraging my experience and vast network in Africa's power and energy sector to mobilize global stakeholders to work together to remove barriers that prevent effective youth and women participation in Africa's Power and Energy sector.
I am an entrepreneur with interests in the Energy and Management Consulting, delivering solutions for electricity utilities.
I am an astute conference speaker and moderator with a track record with such international events as: PowerGen Africa Conferences, African Utility Week Conferences, ABB Customer World, International Energy and Environment Fair and Conferences, Zambia Entrepreneurship Summit, South African Power Pool Conference, Energy Storage Conference, Standard Bank Employee Engagement seminars and AMEU Conferences.
I am also an incisive Stakeholder Management Strategist, with exceptional campaign design and execution track record since 1999.
What is your position and what does your role entail?
I have a number of hats. I am currently the President and founder of African Women in Energy and Power, and a Group CEO at Rito Group of Companies.
At Rito Group we have a bouquet of startup companies with interest in the energy sector, and management consulting. My role is strategy and business development.
African Women in Energy and Power (AWEaP) is a Non-profit company established to accelerate African women entrepreneurs' participation in the Power and Energy sector. The company was founded in 2018, registered and launched in 2019. We have 10 chapters in 10 countries in Africa. AWEaP's genesis hinges on creating effective platforms and initiatives to accelerate women's participation in the energy and power sector as entrepreneurs and value adding agents within the energy ecosystem. We believe that accelerated participation of women, will also aid eradication of energy poverty.
As president, my role is finding opportunities to collaborate with stakeholders in Africa's Energy and Power ecosystem, to identify real entrepreneurial opportunities for women across the depth and breadth of the energy and power value chain.
My contribution to the Energy and Power Sector
I am the Founding Chairman of Gen X Theatre Africa (Gen X) (www.genxtheatre.africa), an initiative geared at accelerating Youth participation Africa's Power and Energy sector. To date the initiative has enabled 60 young professionals and students the rare opportunity to present abstracts of their academic papers to an esteem team of adjudicators.
I am also the founding President of African Women in Energy and Power (AWEaP) (www.aweap.africa) an initiative founded to accelerate the participation of African Women Entrepreneurs in the full value chain of Power and Energy in Africa, and contribute towards addressing the continent's energy poverty.
It has established chapters in the following countries:
South Africa
Botswana
Swaziland
Lesotho
Uganda
Tanzania
Kenya
Nigeria
Malawi
Both these profound initiatives target 22 countries on the continent. They are endorsed by the most established power pool on the continent: The Southern African Power Pool (SAPP) and its member utilities.
Favourite moment in your career?
There are many moments that I cherish. But the most recent and notable ones are:
Receiving the inaugural Women in Engineering of the year award in 2019 from the South African Electrical Engineers Institution, in recognition of my personal devotion to empowering youth and women in Energy.
The Launch of African Women in Energy and Power at the Power and Electricity World Africa Show in 2019
Your Favourite quote and why?
''To become a person does not necessarily mean to be well adjusted, well adapted, approved of by others. It means to become who you are. We are meant to become more eccentric, more peculiar, odder. We are not meant just to fit in. We are here to be different. We are here to be the individual.''- James Hollis
This emphasises independence in thought and existence. It says you are enough as you are! Stop seeking validation and approval. Be authentic without fear, you are not meant to be well adjusted you are meant to be an individual, unique and content.
How do you overcome the challenges that you face with regards to your position, as a powerful woman in a male dominated environment?
Identify the value you want to add and keep exceeding your own standards. Research and commit to your personal growth. Do not wait to be told, to be given, strive to lead the curve. Believe in yourself and your talents. Collaborate with sincerity. Never stop learning and being curious. Don't take everything personally; always keep your eyes fixed on the goal and the bigger picture. When you do not feel safe, stop and change direction.
Best advice you received and who was it from?
Never go into something you are not willing to lose. This is such a profound belief. It was given to me by a business partner as we analysed our business development tactics and negotiations strategies. It released my fear of failure of losing. It focused my energy to articulating my interests and value.
What would you say to a 13-year-old YOU?
You are enough. Everything about you is perfect. There is no duplication of you. You are beautiful and never doubt that. Go out in the world, show up (prepare and be ready always), knowing that you are a gift, and you are enough.
How has COVID impacted your life (Work /Home)? Pros & cons
At personal level it has been a time of reflection and identifying what matters the most in life. Losing loved ones to the virus has been tragic. Witnessing friends lose loved ones and not being able to comfort them in person has been heart wrenching.
I have used the time in solitude to regroup and remember how to practice gratitude.
On the other hand, I have been most productive.
Practicing a basic ritual which comprised of:
Daily written reflections:
I did not make it every day but as often as possible.
Reflecting on the past day, feelings and areas of anxiety.
Listing actions, I will undertake to ease anxiety and improve my personal experience.
Analysing which personal values my actions served and which they betrayed, committing to course correct.
Really getting in touch with my own behavior, identifying triggers and endeavoring to do better
Tasks for the day:
Listing all tasks for the day, including when I would take a break and walk the dogs in the garden or make a call to family or friends
Identifying one big rock:
An important task that I need to shift and complete.
This gave me structure and focus. It ensured that my days were filled with activity – productive activity.
I learned self-acceptance, self-admiration and self-celebration during this time.
I also learned that it was ok not to be productive. So as the lockdown progressed, I started giving my self-permission to rest and just be. To honor, grieve and express gratitude for life.
What advice can you give to people who are still afraid to go after their dreams?
Life is not a rehearsal you get one chance at it. You are enough. Everything about you is perfect. Trust that you are enough and pursue your interests and your dreams.
Build wholesome relationships anchored in truth, loyalty and love.
If you do not try, you will never discover anything new, you will not grow, and that is the worst thing you can do to yourself. Be courageous. Just do it even if you are not sure, just do it – you only get certain in action!
Any insights you want to share with our readers?
Everyone is fighting a difficult fight. Be kind in your words.
Be even more kind to yourself. Learn to observe and not absorb everything.
Be curious about life – do not judge – judging is a futile exercise.
Be hungry to learn new things
Seek to understand others, and say what you mean!
You will always be incompetent for a season – so do not be afraid to learn new things. The magic of life is in learning new things with an open mind.
We can all agree that Bertha is such a powerhouse with great impact in the energy sector, paving a way for other women who are following in her footsteps and also dream of entering the energy sector. Her initiatives seeks to empower women entrepreneurs in energy and also afford them opportunities.
We salute your leadership Bertha Dlamini.